From a military combatant, wielding guns and chasing for survival, to a normal civilian, having a normal day–to – day job, wearing regular clothes, and socially interacting with their friends and relatives. As easy this is to read and write, it is way beyond that in practice. Numerous veterans are opting for a life switch, however, many are not well-educated of all the challenges they are about to face, while stepping into the normal lifestyle. This article intends to educate the reader on the challenges veterans will face and how to successfully achieve their veteran transition. Additionally, we will guide the reader towards finding ways to readjust in the midst of the struggle to adapt. Members of the military forces may be ignorant about the challenges that are in front of them, once they decide to rejoin civilian life. This section will highlight the different obstacles veterans will encounter during their transitioning.
1st Veteran Transition Challenge  : Reconnecting with The Loved Ones
A disheartening fact that will disappoint a lot of families. Relatives should give the veteran some time to adjust. Since absence creates change, veterans might find it difficult to establish the old connection they had with their families. It is thus crucially important to point these issues in the beginning and start working on creating a community, where all join together and understand each other's needs. (2)
2nd Veteran Transition Challenge:  Career Preparation.
A late wake up call for some, and an old reminder for others. This is because different veterans had different experiences. Some military veterans started off young while others left everything behind in order to look for structure and a sense of adventure, mixed with their love and devotion for their country. This goes to say that no matter where you started, the minute you decide to return to your old civilian life, transitioning might take a toll on you. Although the veteran lifestyle has its benefits especially with gaining new skills civilians didn't have. Transitioning back will also require the presence of certain skills. From writing a resume, getting interviewed, tested, and at last there is the possibility of rejection. The veteran is not well prepared for such a veteran transition. At least in the military, they used Field Service Record to evaluate qualification
.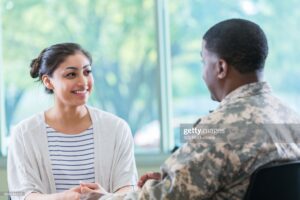 3rd Veteran
Transition Challenge: Returning to a previous job.
Some service members will have to readjust to the return to their previous job or company. Holding a gun and fighting in a war zone may be fairly easy to a trained veteran, however, sitting behind a desk wearing a typical suit and tie will be a huge struggle. During this transition, some military service men might develop fear or anxiety of loss of job or sacking. This is because normal everyday life is built on ambiguity while military life hold structure as a basic foundation. (3)
So the question is, What are the secret of a Successful Veteran Transition ?
At one point, this is a fundamental question every veteran needs to ask, if ever they think of quitting military life. It can be a daunting decision to make, but totally worth the trouble. By pinpointing the obstacles that the veteran is aware of and educated about, they have high chances to avoid pitfalls and manage their expectations. This section is particularly concerned with providing advice on how to get back on track once the veteran leaves the military life.
1st Resolution for Profitable Veteran transition: take advantage of the VA (Veteran Affairs) home loans, financial compensation for disability, G.I. Bill for education and medical care.
For instance, VA housing is meant for veterans and their families to buy, build, and redecorate homes. This may be done through the home loans; a mortgage backed by the VA. Furthermore, veterans can also use the VA disability benefit if they ever get sick, injured, or disabled. Military service members can file a claim for the VA disability compensation.
2nd Resolution for Profitable Veteran transition : Using the VA education, training, and employment benefits.
Serving as a veteran is at a huge cost, and this one is sacrificing your whole life for the service of your country. You will forget how to socially interact like you used to, school, and basic soft skills you may or may not have had before(4). Therefore, the VA insures the establishment of education and employment related programs for veterans to benefit from. Some of these programs are the following:
Veteran Readiness and Employment (VR and E): intended to aid service member with disabilities with job training, job search and coaching / VetSuccess on Campus ; designed to assist veterans in the transitioning from life in service to life in campus.
Montgomery GI Bill Selected Reserve (MGIB-SR): this is a program that pays for 3 years of education or training benefits for reservists, members of the Army National Guard, and Air National Guard.
3rd Resolution for Profitable Veteran Transition : Developing and improving soft skills.
Despite the required qualification a veteran may have, soft skills are always a huge plus and a guarantee to impress a recruiter or employer. It is also called the people skills or work-readiness skills. These are a person's personality, manners, attitude, and overall charisma. It may be how good you are at presenting yourself or how good of a first impression you leave in people's head. It may be the art of using your language and your body to gain people's trust and likeness. Or on a more specific level, other skill sets you have gained or used to have, for example, you may be good in drawing, making music, or a talented video photographer. Anything that is a plus will help you get back on your feet once you step into the real world.
Conclusion
a veteran lifestyle can be both bliss and a curse, depending on your adaptability and your sense of adjustment. One thing everyone needs to keep in mind, whether it would be a young drop out who wishes to join the army, or a highly trained and skilled veteran who wants to return to their normal life. Be determined of your decision and be ready for a change that will include the struggle to adjust again and transition successfully.
Resources: 
https://journals.plos.org/plosone/article?id=10.1371/journal.pone.0128599
https://www.va.gov/vetsinworkplace/docs/em_challengesreadjust.asp
https://journals.plos.org/plosone/article?id=10.1371/journal.pone.0128599>
https://www.militarytimes.com/veterans-transition-survival-guide-feature/>
https://zety.com/blog/military-resume
See our other opinion articles
A Content Writer & Freelance Translator. He enjoys writing about mental health, fun for seniors, educational apps, and entertainment for all. In his spare time, he enjoys watching football, playing video Games, and good laugh with his friends.