Key Features :

Brandeis University Researchers find out that word games including crossword puzzles and Scrabble contributed to improvements in memory and executive function in people 50 and older. (1)
games can provide students with intensive and meaningful practice of language. (2)
Word games allow the use of meaningful and useful language which is used in real contexts.
Unparalleled Joy :
The satisfaction of connecting letters together successfully out of a puzzle is priceless. From children embarking on their first trial in word games to adults reaching their 1,000 level, these types of games are undoubtedly amusing. However, did you know while puzzles and crossword games are all fun, they carry with them a range of benefits and skills for your child to develop and gain.
To name a few, we have collected a wide range of advantages of word games that will benefit your kid tremendously.
Alternative Teacher :
Raising a child can be a very tough and complicated responsibility, especially growing up in the digital age where everything is a click away. While this may be alarming for some parents, children and teens are consistently exposed to unhealthy and toxic habits; from playing video games that stimulated violent behavior, to actually engaging in juvenile crime. For that reason, it is important to observe and keep an eye on your child's interest and "playful activities".
On that account, getting down to the nitty-gritty with your child by teaching them proper proclivity needs to be your first objective. With that being said, aim for educational games rather than prohibiting any sort of video games. For instance, puzzle games might be your first resort for the simple reason that puzzle word games benifits children develop their reasoning and decision-making skills. (3)  Word Games like Wordscapes and Wordcross aid your child in adapting better social skills like becoming more confident and determined.
Mental Booster:
Jigsaw puzzle games are known for their level up and challenging stages, thus the more you upgrade the harder it gets to go through. This is where your child gains persistence, perseverance, and diligence. This gives them a sense of achievement once they complete a level. This process is known to increase the competitiveness we exhibit as humans at a very young age. Hence, it encourages kids to learn how to use their reasoning competence by guessing which letter corresponds to the correct place to complete the puzzle.
Learn Through Play: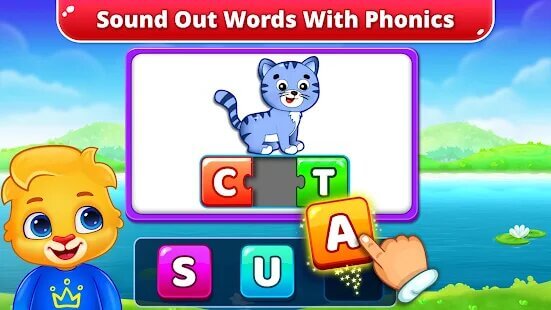 Another critical benefit word games have is that they help children acquire knowledge through subliminal learning (4). As you may have been familiar with, most word games come with themed levels which diversifies the categories and the collection of words your child gets to learn. Themes may include shape, numbers, weather, which prepares kids for their elementary school. Studies have shown that learning through playful activities not only builds interests in the subject matter but also makes the process of learning more enjoyable and positive. Therefore, the best way to keep your child's attention span is through smart activities such as educational word games.
Contextual Learning:
Completing a sentence is another significant way to encourage kids to use words. The Game is simple. You must write a simple sentence while omitting one word or several words. Then, You will give choice words for the player to pick from. This set of words can be whether vocabulary words or particular words in the correct tense and number. In fact, you can render this game more exciting and competitive by providing students with whiteboards or organize teams of players. Indeed, this word game benefits player to be familiar with the contextual nature of words.
Let's look at the sample:
Mark ( ) Lisa Flowers.
---
A. Did B. Offered C. Makes D. Created.
In the example above, students would obviously pick B, because it makes grammatical and common sense to use offered.
Water two plants with one hose:
Word and puzzle games can also be used to enhance social interaction with your child as it puts them in a situation where they may discuss things either with their friends or with their family members. It also highlights their observation and inquiry skills since they'll be trying to figure out hidden words and connect the appropriate letters together and question their choices and decisions(5). It is a good exercise for future preparation while at the same a good pastime where you hit two birds with one stone.
Citations:
(1) http://midus.wisc.edu/findings/pdfs/734.pdf
(2) Wright, A., Betteridge, D., & Buckby, M. (2006). Games for Language Learning (3rd ed.). Cambridge: Cambridge University Press.
(3) Twinkl.co.uk. 2021. [online] Available at: <https://www.twinkl.co.uk/blog/how-can-word-puzzles-help-your-child-learn> [Accessed 19 September 2021].
(4) TheSchoolRun. 2021. 10 ways word puzzles can help your child. [online] Available at: <https://www.theschoolrun.com/10-ways-word-puzzles-can-help-your-child> [Accessed 19 September 2021].
(5) Campos, E., 2021. [online] Study.com. Available at: <https://study.com/academy/popular/word-games-for-kids.html> [Accessed 22 September 2021].
A Content Writer & Freelance Translator. He enjoys writing about mental health, fun for seniors, educational apps, and entertainment for all. In his spare time, he enjoys watching football, playing video Games, and good laugh with his friends.