Even if bed Furniture risers are often presented as a storage solution it also offers benefits for seniors who may struggle when getting in and out of bed. By elevating the bed's frame, they make standing up more manageable for those with limited mobility. This article will delve into this aspect of bed furniture raisers, where we will show you the different types of bed risers, how to select them and at the end we will show you the best options we found in the market.
Different types of Bed Furntirue Risers:

Here's an overview of some of the most popular types:
Adjustable Risers: These allow you to customize height adjustments.
Fixed Height Risers: They have a standard lift ( so cost-effective ).
Storage Risers: Specifically designed with additional compartments or shelves, these risers provide extra storage space. ( we're not interested by those )
The choice will depend on the budget and other aspects that we will talk about it in the next section.
How to choose Bed Furniture Risers for the confort of our elderly:
1. Height: Our primary goal is to find the appropriate height that facilitates ease of standing up. Try to simulate the desired height before purchasing. You can test with objects like pile of books or even stacks of sturdy wooden blocks. The senior can attempt to stand in order to check that the height is adequate. This hands-on approach ensures the chosen risers will be tailored to the needs of your elderly.
2. Durability and Stability: Consider risers made from materials like reinforced plastic, steel, or solid wood, as these can provide the strength needed to support the bed's weight without wobbling or tipping. A broad base design is also essential for stability. The bed must remain stable since seniors who may have balance issues require a reliable support structure.
Avoid materials like thin plastic or any other lightweight materials that may crack or deform under pressure.
3. Weight Capacity: Verify the total weight capacity (including humans, pets, and bedding) to ensure that the risers can support the load securely.
4. Frame Size : The risers must fit snugly around the bed's legs. Select a riser with the diameter that corresponds to the bed leg's size to prevent any wobbling or misalignment.
Best Bed Risers for Helping Seniors Stand Up:
1. Bed Risers By Vive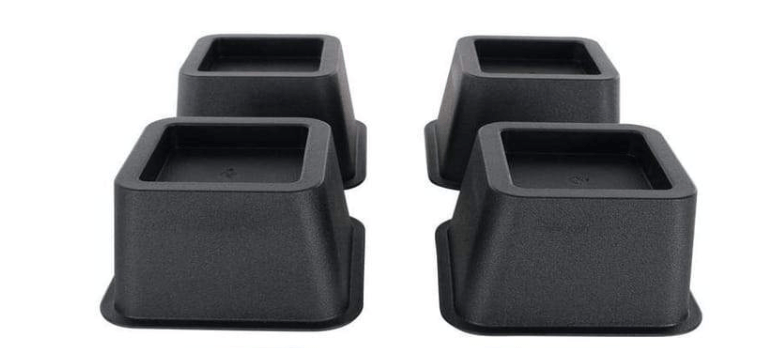 These Bed Risers Vive are designed to elevate most furniture, including beds, couches, and desks. It comes with multiple height options from 3" to 8". These risers are particularly suitable for those with limited mobility. The set includes eight stackable risers made of durable molded plastic that can support up to 1760 pounds without sagging or cracking.
Pros:
Comes in a mixed height set of 3" and 5" risers, allowing customization.
Non-skid and non-snag design, safe for most flooring including carpet and hardwood.
Super strong plastic construction to support substantial weight.
Creates under-furniture storage, adding space efficiency to your home.
8-pack provides flexibility for various furniture types not only beds.
Cons:
3" risers can only be stacked on the 5" riser.
2. Langham Multi Purpose Raiser Clip-Ons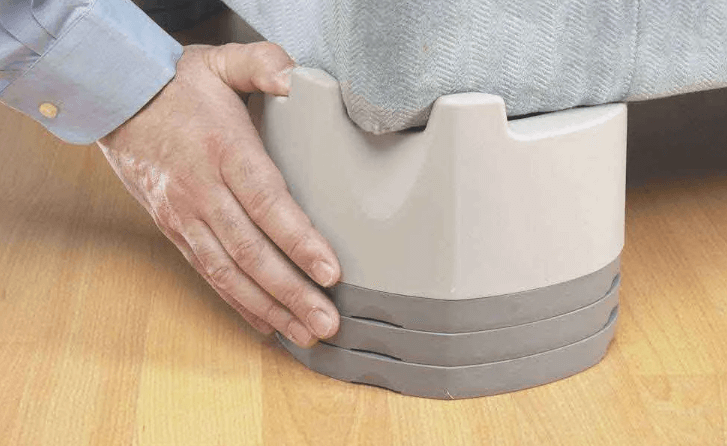 This multi purpose risers are also designed to elevate chairs, tables, or divans. The pack includes 12 clip-on sections that contribute to an overall raised height of 20mm (¾').
Pros:
Can be used on various types of furniture like divans, sofas, and armchairs.
Easy to install by simply clipping on to the Main Unit.
Robust design : it supports a total weight of 500kg (78st).
Cons:
Limited raising height of 20mm (¾') per clip-on.
3. Honey-Can-Do 5.5-Inch Set-of-4 Bed Risers with Power Outlets & USB Ports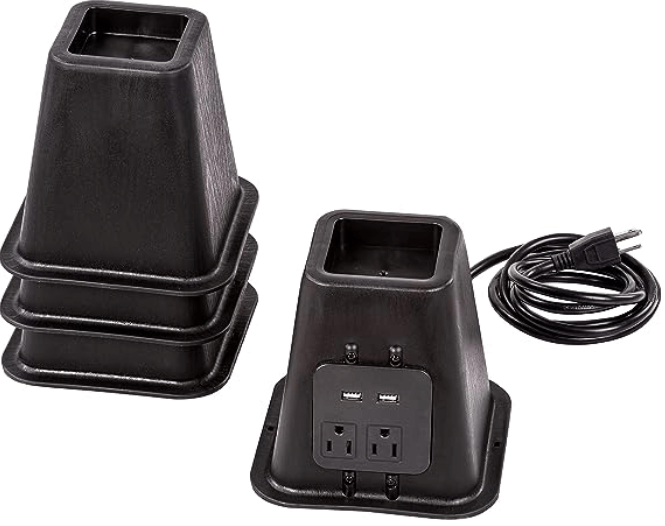 These risers give a dual benefit of elevating the bed by 5.5 inches while also including 2 USB ports and 2 electrical outlets. These risers support weight up to 300-lbs per riser and include a 6.5-foot long power cord.
Pros:
Increases bed height by 5.5".
Includes 2 USB ports and 2 electrical outlets.
6.5-foot long power cord.
Sturdy design with 300-lbs weight capacity per riser.
Positive customer reviews highlight good quality and convenience.
Cons:
The cord length may not be sufficient for all room configurations.
Then
If standing canes and other aids designed to help stand up from bed are not sufficient, you may opt for bed risers as an alternative solution.
Always remember, it's essential to consult with a healthcare provider or a therapist before deciding on any assistive device. Their expert advice can help determine the safest and most effective option tailored to the individual's specific requirements.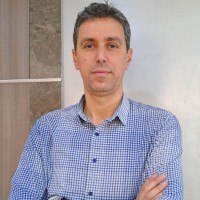 A seasoned SEO specialist and a writer for gaming, senior well-being, and ride-on toys. With an analytical mind, sharpened by 14 years of experience as a finance controller. His unique ability to create engaging content is only exceeded by his skill in leveraging SEO strategies, a talent driven by his love for numbers and patterns.