With the challenge that standing can pose for seniors and people with limited mobility, some devices raised to assist in these everyday movements, portable lifting cushions have become an excellent device that help standing up from couch. This is because they are lightweight, easy-to-carry and provide a much-needed boost.
This article will delve into the world of portable lifting cushions, and will give you the process of selecting the best cushion in the market.
How Does a Lifting Cushion Work?
In few words : A liftinh cushion operates on simple yet ingenious principles, it simply enables people with limited mobility to move from a seated to a standing position and vice versa, comfortably and safely.
Some lifting cushions are battery-powered and compact. It works by inflating gently and shift the person from a seated position to standing. It is activated by a simple button press on an easy-to-use handset, it raises ( or make lower ) the cushion.
The device's gradual inflation ensures a safe lift.
The most interesting features that we can find in lifting cushions are :
A compact cushion that fits well in differents chairs and can be easily moved.
A cushion that support substantial weight, more than 100 kg.
An easy handset to control the cushion's inflation and deflation.
Capability to function without assistance
Look at this video to see how it works :
How to select a Lifting Cushion :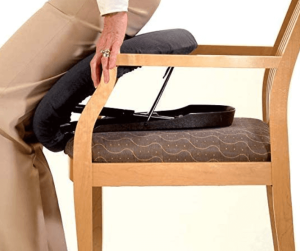 Every senior with standing problems have his specific needs. To select the correct device, you should pay attention to the following points:
Weight Capacity: Lifting cushions are designed to handle a certain amount of weight. So the cushion you will select should support the senior's weight.
Size and Fit: The cushion should comfortably fit the user and his seating furniture ( chair, sofa …) . Too large or too small could lead to discomfort and inadequate support.
Portability: Since we're focusing on portable cushions, it's vital that the cushion is lightweight and easy to transport from a seat to seat.
Materials and Maintenance: Look for high-quality, durable materials that are easy to clean and maintain.
Safety Recommandations for the use of Portable Lifting Cushion :
Here are some safety recommendations to keep in mind when using a portable lifting cushion:
Always make sure the cushion is placed correctly and securely on the chair or sofa. It should not slide or move when the senior is sitting or standing.
Make sure the senior knows how to use the lifting cushion, get in and out safely, and what to do in case of malfunction.
Regularly check the cushion for wear and tear or any signs of damage that might affect its functionality.
Best Portable Lifting Cushions For Seniors:
To assist you in choosing the best lifting cushions for seniors, here are a few top-rated products worth considering:
1. Carex Uplift Premium Power Seat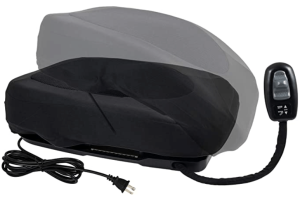 The Carex Uplift Premium Power Seat is a high-quality lifting cushion designed to assist individuals with mobility limitations. The information provided here is based on the product's description and customer feedback.
Pros:
Fully electric lift for effortless standing up
Supports up to 300 lbs
Exists with 17″ and 20″
Features memory foam
Includes easy-to-use flexible hand controls for position and height
Easy-to-clean waterproof cushion with foam
Lightweight and portable design, perfect for anywhere with access to electricity
Washable, zippered cover with comfort mesh for improved airflow
Consistent and reliable performance over time.
Cons:
The electric requirement might limit its usability in areas without access to electricity.
Comfort may be an issue for some users due to the hardness of the cushion, potentially leading to backache over time.
The height of the cushion when inflated may interfere with the user's ability to use armrests or recline in their chair.
Potential issues with shipping and handling, including damaged packages and malfunctioning products.
The control is only on the right side, which may not be suitable for those with limited use of their right arm.
There could be a potential risk of injury for some users if not used correctly or in specific conditions, such as for individuals recovering from stroke.
2. Uplift Seat Assist by Performance Health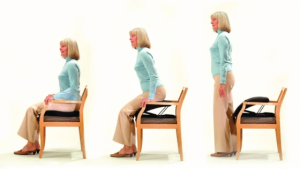 The Uplift Seat Assist is a non-electric portable lifting cushion designed to provide assistance to individuals with mobility issues. This summary is based on the product's description and feedback from customers.
Pros:
Lifts or lowers up to 70% of the user's weight
Gentle and safe lift up to 10" without pushing the user forward
Non-skid bottom helps prevent sliding on furniture
High-density memory foam cushion
Removable Polyester fabric cover ( and machine washable )
Adjustable for user weight up to 200-340 lbs
Cons:
Non-electric nature require some physical effort from the user to activate the lift
Dependent on the stability of the chair it's used with
May not fit well on very deep chairs
The Uplift Seat Assist serves as an effective solution for those with arthritis and other mobility limitations. Its non-electric operation makes it a versatile choice that can be used in various settings.
3.Boost Power Lifting Seat By Careco UK
The Boost Power Lifting Seat is an electrically powered chair lift designed to provide assistance to individuals who struggle with sitting or standing from a chair. This summary is based on the product's description and customer reviews.
Pros:
Supports up to a maximum of 136kg ( 300 pounds ) in weight
Electrically powered lifting and lowering function
Three-layer memory foam and pressure relief
Easy-to-use hand control with a toggle switch to adjust height
Machine washable, zipped waterproof cover and water resistant foam surface
Lifting and lowering process takes 28 seconds
Positive customer reviews highlight its life-changing benefits, sturdiness, and ease of use
Cons:
Noise level might be a bit high for some users
The control pad may be difficult to read for some users
The power cord length might be insufficient in some setups
May be uncomfortable for prolonged sitting according to some reviews
The Boost Power Lifting Seat serves as a valuable mobility aid, it reduces strain on knees and wrists during sitting and standing movements. Despite minor drawbacks, it is highly appreciated by customers for its convenience and effectiveness.
Wrap It All
Lifting cushions are an easy to use solution for seniors with standing up problems. Whether it's electric lift or a non-electric, these products aim to enhance the daily living of those who struggle with standing up from a chair or a sofa.
The choice of which device to buy depends on the specific needs of the senior, his weight, size, seating preference, and the degree of assistance needed to stand up.
Regardless of which option you select, ensure that it offers comfort, durability, safety, and ease of use. Furthermore, if portability and easy cleaning are essential to you, check those features before purchasing.
Explore more about these assistive devices and how they can improve senior mobility in our articles How to Help a Senior Stand Up and Couch Standing Aids for Seniors. The right product can indeed make a significant difference in a senior's life, contributing to his independence, safety, and overall well-being.
Always remember, it's essential to consult with a healthcare provider or a therapist before deciding on any assistive device. Their expert advice can help determine the safest and most effective option tailored to the individual's specific requirements.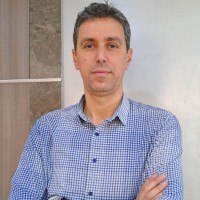 A seasoned SEO specialist and a writer for gaming, senior well-being, and ride-on toys. With an analytical mind, sharpened by 14 years of experience as a finance controller. His unique ability to create engaging content is only exceeded by his skill in leveraging SEO strategies, a talent driven by his love for numbers and patterns.