Every detail counts in adapting the toilet to make it safe for our elderly. As element of toilet aids like raised toilet seats or seat lifters, grab bars provide an extra assistance that can complement other devices.
In this article, we will talk about toilet grab bars, you will be able at the end to know how to select a good one and where to place it for an utmost toilet safety.
Moreover, we will give you an overview of the best options available on the market today.
How to Select a Toilet Grab Bar: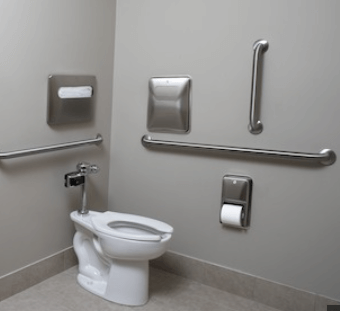 First of all, I should point that toilet grab bars and safety rails are not the same. These terms are usually used interchangeably, but these tools serve distinct functions and have unique characteristics.
In fact, toilet grab bars are typically installed on the walls around the toilet. They offer a grip to help peoplse maintain their balance while standing up or sitting down. On the other hand, safety rails are usually mounted directly onto the toilet. The rails are especially beneficial for those who need assistance shifting their weight or need something to hold onto while navigating from a wheelchair to the toilet.
Now, let's comeback to our selection tips :
1. Material and Sturdiness: The grab bar should be sturdy enough to support the weight of your elderly. Bars made from robust materials such as stainless steel or hardened plastic are the best choice.
2. Diameter: The diameter of the bar should fall within a comfortable range to be easily grasped by the user. It is generally recommended that the diameter of the bar should be between 1.25 and 1.5 inches. This allows for an optimal grip and a reduced risk of slips and falls.
3. Quality of Mounting Screws: The stability of a grab bar is only as strong as the hardware securing it. Therefore, the quality of the mounting screws is iportant. Look for stainless steel screws, they are preferred due to their strength, durability, and rust-resistance and can withstand the weight and force exerted on the bar without loosening over time.
4. Length: The length of the grab bar should be suited to the dimensions of the bathroom and the needs of your senior. It should be long enough to offer support throughout the entire motion of standing up or sitting down. The bar's size and placement should be determined based on the senior's reach and the specific movements he will make when utilizing the bar.
Where to place a Grab Bar in Toilet:
Ideally, grab bars should be placed in areas where they can provide the most support during the key motions of sitting down and standing up.
1. Side Wall: An horizontal bar on the side wall next to the toilet, about 34 to 38 inches above the floor, often provides the most support. It aids in both sitting down and standing up by allowing the senior to lower himself onto or push off from the toilet seat.
2. Rear Wall: Some users may find a vertical or diagonal bar in this location to be helpful, as it can be more easily gripped from a seated position.
3. Front Wall: If there is a wall directly in front of the toilet, consider installing a bar there. This can be extremely useful if the senior needs to pull himself up from the toilet seat.
Try to customize the installation, sit down on your toilet seat and, keeping your feet flat and stationary, imagine where you would instinctively reach out to try and lift yourself up. These are likely the best spots to install your grab bars.
Best Toilet Grab Bars For Seniors:
1. Moen 8724 Home 24-Inch Bathroom Grab Bar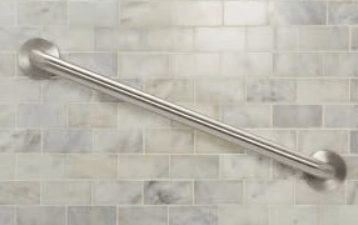 This bathroom grab bar by Moen is made of stainless steel. The grab bar supports up to 500 pounds when installed in a stud or when using SecureMounts (not included).It is included in Amazon's Choice section and exists in different sizes.
Pros:
Supports up to 500 pounds.
Stainless steel construction.
Affordable
Cons:
SecureMounts for installation are not included and need to be purchased separately.
Installation might be difficult for some.
May not fit in all bathroom styles or setups.
2. Textured Grab Bars by Vivehealth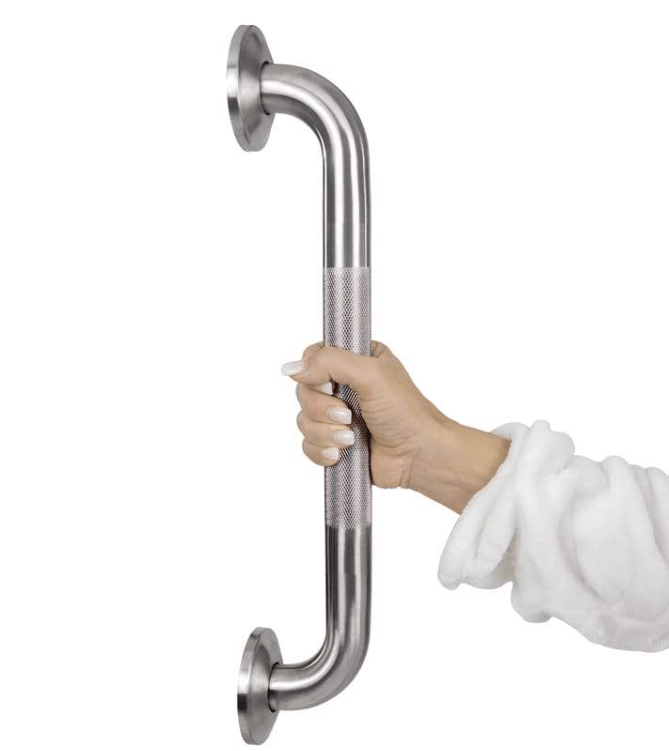 This Textured Grab Bars offer safe support for the elderly. They are constructed with stainless steel and feature a non-slip textured design. They come in different sizes ( 12, 16 and 24 inches ).
Pros:
Supports up to 440 pounds.
Versatile positioning options.
Made with long-lasting stainless steel.
Non-slip textured design.
Includes mounting hardware.
Suitable for installation on : Acrylic, plaster, fibergalss surfaces and drywall.
ADA Compliant.
Cons:
May not fit in all bathroom styles or setups.
Price may be a concern for some customers especially for long version.
3. Suction Grab Bar by Vive
We selected this one because it can be mounted, unmounted and moved easily, it's a ViveHealth Best Seller that is a tool-free installation with two strong suction cup bases with locking latches. The bar is designed with colored securing indicators that display red when not secure and green when secure. The grab bar is made with a durable composite material and supports up to 300 pounds.
It is initially designed for showers buy could be used also for toilets.
Pros:
Easy to install without any tool
It can even be attached directly to the toilet bowl sides.
It could be moved from a place to another easily.
It's lightweighted and sturdy.
Cons:
In Conclusion
Wrapping It All Up:
Toilet grab bars provide additional support that can help eliminate fall risk as it help seniors to stand up and sit with ease.
Remember that materials the grab bars are made with and the placement are important to provide the most support during the key motions of sitting down and standing up.
This is just one aspect of a broader field known as geriatrics, which focuses on health care for elderly people to improve their quality of life.
Always remember, it's essential to consult with a healthcare provider or a therapist before deciding on any assistive device. Their expert advice can help determine the safest and most effective option tailored to the individual's specific requirements.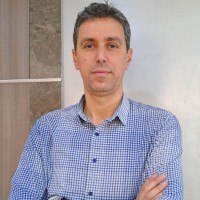 A seasoned SEO specialist and a writer for gaming, senior well-being, and ride-on toys. With an analytical mind, sharpened by 14 years of experience as a finance controller. His unique ability to create engaging content is only exceeded by his skill in leveraging SEO strategies, a talent driven by his love for numbers and patterns.